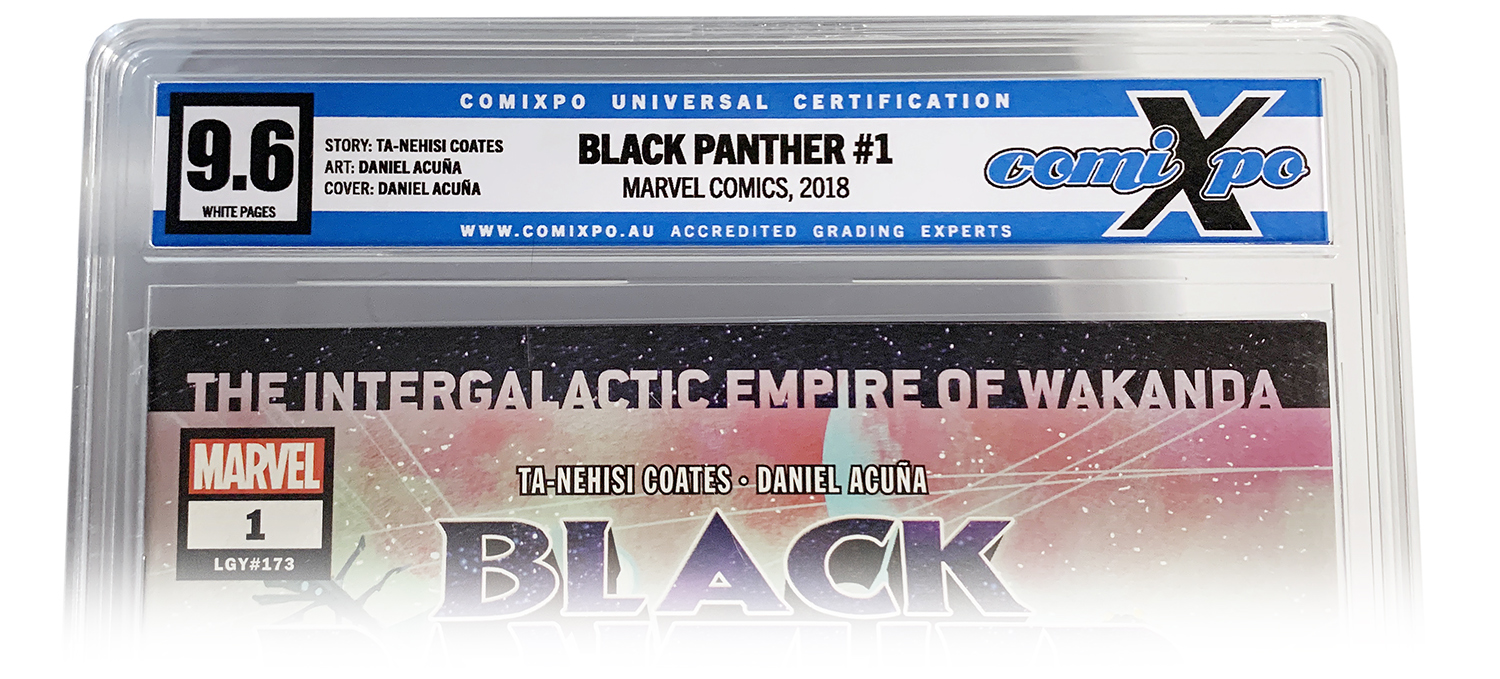 ComiXpo Universal Certification
Professionally Certified
ComiXpo.au has partnered with some of Australia's leading comic book and print publishing experts to give the certified collectibles industry ComiXpo Universal Certification (CUC). Based in Melbourne, CUC delivers high-quality modern (post-1999) comic book gradings. With over one hundred and fifty years of combined experience in print production, comic book creation, condition evaluation and restoration detection, you can be confident that comics graded and slabbed by CUC have been thoroughly inspected for authenticity, completeness, and any possible reconditioning. CUC was established to meet the growing demand for impartial, third-party certification with the aim of being the industry's fastest, most affordable grading service.
Expertly Archived
CUC's state-of-the-art holder (known as a slab) combines superior optics and the most advanced archival materials, making it ideal for visual display and preservation. The point of a slab is to seal the comic so that it can't be swapped, tampered with, or exposed to more degradation from the elements. With crystal­-clear plastic, the slab's superior vision unleashes each comic's colour and vibrancy. Our state-of-the-art label is easy to read, showcasing the grade and details about each comic. This allows you to quickly identify the book from both the front and back. The slab's sturdy outer plastic better resists impacts. The slab design uses precise pressure to lock the comic in place for enhanced protection, while the seal-affirming CUC authenticity is integrated into the printed label for increased security. Modern comics (post-1999) are designed to fit in the CUC slab (190mm wide x 315mm high). Our CUC slabs lock and stack together for easy transport and storage.
Coming Soon
Beginning early next year, we will offer online submissions, 24/7 tracking, return insurance, a searchable database (QR and barcode), and quality assurance for modern comics published from 2000 onwards. Our flat-rate service will have no markup based on the value of your modern comics (168mm wide x 258mm high), and we won't require membership fees. Our interactive service will ensure your order is logged, processed and committed before we receive your comics. The submission process involves uploading a photograph and entering a brief description for each comic you need to be graded. We will guide you through the process of how to best package and send your valuable cargo, and for peace of mind, we recommend insurance on any parcel valued over $100.00. When returning your graded comics, we will ensure each parcel is securely packaged, registered and insured (based on your estimated fair value) with notifications when it is sent and when to expect delivery. We understand turnaround times are crucial. However, correctly grading comics does take time. For most enthusiasts, having their comic correctly graded with a longer wait time is far more critical than risking a costly, rushed 'while-you-wait' job. Unless otherwise stated, we offer a thirty (30) day assessment process. We understand (first-hand) what it's like to have your comics gone for extended periods of time (sometimes over six months!). Our service will be based on a first-come, first-serve priority.
Welcome to Australia's most proficient comic book certification process.  Our comics are graded by our industry experts and presented in an exquisite, archive-quality slab (PVC hard case).